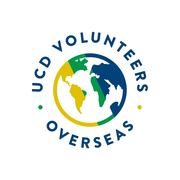 € 184,293
raised of €0 goal
Create fundraising page
Donations made here are eligible for a charity to reclaim in tax paid in Ireland
Cause
UCDVO's Vision is for UCD students to graduate with an understanding of the challenges facing humanity worldwide and the determination and self belief to tackle the issues underlying poverty and inequality in the world. UCDVO's Mission is to provide UCD students, staff and alumni with opportunities to volunteer for the benefit of disadvantaged communities overseas, in response to needs explicitly identified by those communities.
Response
UCDVO runs a 12 month volunteering and development education programme which aims to encourage reflection, discussion and action around the complex topics of global citizenship, development and international volunteering. The programme includes educational and training events in the months preceding departure; volunteers will then participate in a 4 week volunteering placement over the summer months with one of our international partner organisations. Volunteers work in partnership with local communities on education, healthcare, environment, IT, and infrastructure projects. On return from the overseas placement, volunteers are given the opportunity to continue their learning and involvement in international development, through structured workshops and events organised by UCDVO.
Projects in 2022
sorry no project yet.