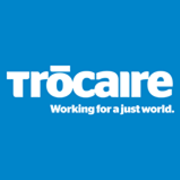 € 100
raised of €5,000 goal
Create fundraising page
Donations made here are eligible for a charity to reclaim in tax paid in Ireland
Cause
805 million people in the world do not have enough food. The vast majority live in developing countries, where one in six children are underweight. This reflects huge inequalities and political failures to protect and deliver on the most basic of human rights, the right to food. Climate change is also a fundamental challenge and a daily reality for communities in many developing countries. It massively impacts their ability to access enough water or grow enough food to survive, let alone thrive.
Response
Trócaire provides humanitarian assistance and long-term support to communities in 20 countries across Africa, Asia, Latin America and the Middle East. Last year, 2.4 million people directly benefited from our overseas programmes. In Ireland, we raise awareness about the root causes of poverty and inequality, and campaign on justice issues.

Projects in 2018
We plan to continue our work of documenting human rights violations and challenging those responsible, and empowering marginalised people, especially women, to participate in governance processes and demand accountability from their governments. Last year, Trócaire supported governance and human rights programmes in 16 countries reaching 356,240 people directly and over 3 million indirectly.

We plan to continue our work supporting families and communities to build sustainable livelihoods. Last year, Trócaire supported livelihoods programmes in 14 countries, benefiting an estimated 794,898 people directly and 1.5 million people indirectly.

We aim to continue our work to empower women. In the last two years, we supported gender programmes in six countries. These programmes are estimated to have benefited 75,442 people directly and over 11.2 million people indirectly.

Trócaire's gender programme provides training on gender equality and women's rights to both women and men, funds women's solidarity groups, helps women to build incomes, and encourages support for women to take on more visible roles in their communities.