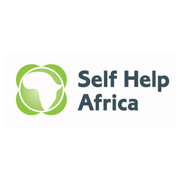 € 98,349
raised of €0 goal
Create fundraising page
Donations made here are eligible for a charity to reclaim in tax paid in Ireland
Cause
250 million people in Africa, farmers and their families, suffer hunger and malnutrition, struggling in extreme rural poverty without enough food; left behind by rising economic growth.
One in 3 people living in sub-Saharan Africa are undernourished. Malnutrition is endemic, stunting children's development and causing sickness, lifetime damage, and contributing to the premature death of millions of under-fives.

Response
Self Help Africa is a leading international development charity with an expertise in small-scale farming and growing family-farm businesses. We are motivated by injustice, by our expertise in small-scale agriculture and family-farm business, and the opportunity we have to help small farmers change the lives of their families.

Projects in 2021
sorry no project yet.