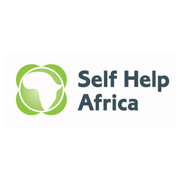 € 96,949
raised of €100,000 goal
Create fundraising page
Donations made here are eligible for a charity to reclaim in tax paid in Ireland
Cause
250 million people in Africa, farmers and their families, suffer hunger and malnutrition, struggling in extreme rural poverty without enough food; left behind by rising economic growth.
One in 3 people living in sub-Saharan Africa are undernourished. Malnutrition is endemic, stunting children's development and causing sickness, lifetime damage, and contributing to the premature death of millions of under-fives.

Response
Self Help Africa is a leading international development charity with an expertise in small-scale farming and growing family-farm businesses. We are motivated by injustice, by our expertise in small-scale agriculture and family-farm business, and the opportunity we have to help small farmers change the lives of their families.

Projects in 2019
LOCAL SEED BUSINESS OUTSCALING Eastern & South Western Regions The project aims to establish 30 new local seed businesses and increase the uptake of quality seed by smallholder farmers through increased awareness of the economic benefits of using quality declared seed and strategic linkages with others in the seed sector.

AGRICULTURE AND MARKET SUPPORT FOR NORTH WEST UGANDA Adjumani, Kiriyandongo & Masindi The project supports the formation of farmer organisations to increase the production of maize and beans and helps to provide better access to markets.

MANZO YOUTH EMPOWERMENT PROJECT (MAYEP) Maracha, Nebbi & Zombo, West Nile This project, designed with local partners AFARD, supports youth empowerment and economic development by building their capacity, knowledge and work-readiness skills.

SUSTAINABLE LIVELIHOODS IMPROVEMENT PROJECT (SLIP) Nkaya & Balaka The SLIP project aims at reducing poverty levels and sustainably improving the livelihoods of 2,000 poor farming households in Balaka District.

SHIRE BASIN SUSTAINABLE NATURAL RESOURCES MANAGEMENT SOCIAL ENHANCEMENT PROJECT Balaka The project aims to limit sedimentation of the Shire River, affecting soil fertility and yields, through community-based sustainable management of natural resources.

BUILDING OPPORTUNITIES THROUGH SEED ENTERPRISE TRANSFORMATION (BOSET) Oromia Region The BOSET project is improving the economic, ecological and organisational resilience of smallholder farmers through on-farm disaster risk management interventions in drought-prone areas.