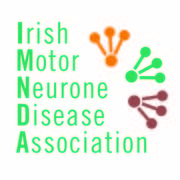 € 0
raised of €1,500,000 goal
Create fundraising page
Donations made here are eligible for a charity to reclaim in tax paid in Ireland
Cause
Motor Neurone Disease (MND) is a progressive neurological condition that attacks the motor neurones, or nerves, in the brain and spinal cord. This means messages gradually stop reaching the muscles, which leads to weakness and wasting. MND can affect how you walk, talk, eat, drink and breathe.
Response
The Irish Motor Neurone Disease Association (IMNDA, CHY 8510) is the only organisation of its kind in the country. We are dedicated to working on behalf of people living with MND and their families and carers.

Projects in 2018
Our 3 MND Nurses help families come to terms with this shattering diagnosis. They drive hundreds of miles a week to visit people in their own homes. They educate Healthcare Professionals. Our nursing service is funded entirely by donation and fundraising. We must ensure this invaluable service continues.

To continue to provide specialised equipment and technology to people with MND. From beds, to wheelchairs and communication aids; these items help somebody to live as independently and comfortably as possible.

The provision of financial assistance towards home care for people with MND which enables a carer to leave their loved one with somebody they trust.

The IMNDA funds counselling sessions for a person with MND and family members to try to alleviate feelings of isolation.