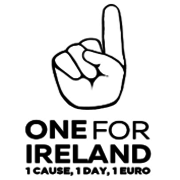 One for Ireland
One for Ireland is run young people for young people. This May Bank Holiday weekend we ask everyone to give just €1 for youth mental health.
Youth - Ireland
€ 1,100
raised of €0 goal
Create fundraising page
Donations made here are eligible for a charity to reclaim in tax paid in Ireland
Cause
One for Ireland is about making the best possible impact to the most pressing issues. Our research showed that youth mental health is the most pressing issue for young people today as well as being somewhere we can make a difference.
Response
In conjunction with the Irish Youth Foundation we will run a national fundraising effort for mental health this year. Rather than just raising money and handing over a cheque we want to go out and engage with what projects are making the biggest impact in their communities.We want to hear from activists and community organisers, students and parents, we want to hear from everybody who wants to do something big for mental health this year. Get in touch, get involved, help us give One for Ireland by organizing your own One for Ireland event and connecting with this page.
Projects in 2023
sorry no project yet.