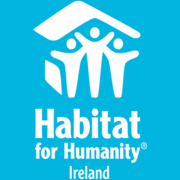 € 55,627
raised of €0 goal
Create fundraising page
Donations made here are eligible for a charity to reclaim in tax paid in Ireland
Cause
We work to eliminate poverty housing in Ireland and around the world and to make decent housing a matter of conscience and action. Habitat for Humanity Ireland transforms lives by bringing people together to build homes, communities and hope.
Response
Our self-help model provides families and communities with a 'hand-up' to pull themselves out of poverty. Our families invest hundreds of hours of their own time, 'sweat equity', into their houses and their neighbours' houses. They also contribute towards the cost of the work. Habitat uses this money to build more homes, communities and hope.

Projects in 2023
sorry no project yet.