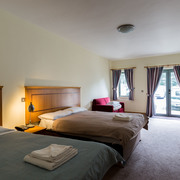 Brú Columbanus
To provide temporary accommodation for relatives of seriously ill patients in Cork hospitals, keeping families together
Health - Ireland
Cause
Brú Columbanus Provide temporary accommodation for relatives of seriously ill patients in Cork Hospitals, keeping families together.
Response
Our Vision : Every day, families arrive at hospitals away from their homes with a relative in need of urgent medical treatment. We offer an environment where patients and their loved ones feel safe and well cared for while hospital treatment is required. Values: Honesty, hard work and high standards Openness - we welcome all families regardless of their financial circumstances, ethnicity or religion. Empathy -we prioritise the qualities of compassion, caring and kindness to nurture empathy Integrity – we strive to have integrity in everything we do and in the relationships we build Friendliness and Welcome – we offer a home away from home in a welcoming and friendly environment
Projects in 2023
sorry no project yet.