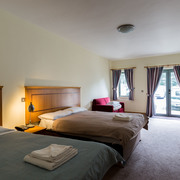 Brú Columbanus
To provide temporary accommodation for relatives of seriously ill patients in Cork hospitals, keeping families together
Health - Ireland
€ 0
raised of €10,000 goal
Create fundraising page
Donations made here are eligible for a charity to reclaim in tax paid in Ireland
Cause
Brú Columbanus Provide temporary accommodation for relatives of seriously ill patients in Cork Hospitals, keeping families together.
Response
Our Vision : Every day, families arrive at hospitals away from their homes with a relative in need of urgent medical treatment. We offer an environment where patients and their loved ones feel safe and well cared for while hospital treatment is required. Values: Honesty, hard work and high standards Openness - we welcome all families regardless of their financial circumstances, ethnicity or religion. Empathy -we prioritise the qualities of compassion, caring and kindness to nurture empathy Integrity – we strive to have integrity in everything we do and in the relationships we build Friendliness and Welcome – we offer a home away from home in a welcoming and friendly environment
Projects in 2021
To continue to ensure all families with a seriously ill patient are accommodated in a calm, caring, welcoming environment. Looking after families is always our primary responsibility.


Each day families in need of accommodation are referred to Brú through the clinical nurse manager, staff nurse or social worker. They determine if the family meets the criteria for admission. The criteria is very simple:
- The family member must be deemed to be seriously ill by the nursing staff and it considered that the family members need to remain close by.
- Patient and the family being referred must live a minimum of 30 miles or 48 kms from the hospital

Brú Columbanus has a selection of modern meeting rooms which benefit from natural daylight and can accommodate a wide range of events from boardroom meetings to conferences.