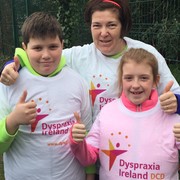 Cait & Joe's fundraising page
My first Try a Tri this year. Included in the training is "Swim a Mile" and lots of different running events including a 10 miler!
Caitriona Wray
€ 365
raised of €1,000 goal
Story
September 2017 saw me complete my first 60km bike ride.  This raised €700 which went towards the Dyspraxia Ireland helpline .  This was a huge personal achievement and gave me the push to challenge myself.  So in my infinite wisdom (!) I set myself a challenge of completing my first Triathlon in 2018.  I have signed up for Try-a-Tri in Athy in June. (250m river swim, 20km bike ride & 4km run).  I chose to Try-a-tri as I am a very nervous swimmer and hate the idea of open water!As part of my training I decided to sign up for various runs in the lead up to June - I think I went a bit mad! Up to June and beyond!24 Feb Operation Transformation 5km (completed)30 Mar Good Run 5K (completed) Joe and Sarah ran this with me.10 Apr Swim for a Mile (1600m = 64 x 25m lengths)22 Apr Night Run 10km20 May Streets of Dublin 5km02 Jun Tri-Athy (Triathlon)09 Jun Dip in the Nip (World record attempt for worlds largest skinny dip in aid of Aoibheanns Pink Tie)17 Jun Colour Dash (Joe & Sarah will be taking part also)24 Jun Irish Runner 5 mile14 Jul Irish Runner 10 mile(these are the ones I have signed up for at the moment!!)Joe & Sarh will be taking part in some of the 5km runs with me.  I hope to raise a minimum of €1,000 which I plan to use to start a 'Dyspraxia Movement' programme in conjunction with 'Runner Beans ' (who have been running active sports activities for children with Dyspraxia incorporating 'Smart Moves').  The hope is to have a physio carry out an assessment of the children before and after the programme to measure outcomes. Dyspraxia, for most children, means extreme difficultly taking part in any sports due to poor balance, muscle tone and coordination amongst other things.Updates will be posted on the Dyspraxia Ireland Facebook page -https://www.facebook.com/DyspraxiaIRL/Website: https://www.dyspraxia.ie/
Charity supported
Provision of information and support to those affected by Dyspraxia/DCD
Top Altruists
20€
25€
20€
100€
10€
10€
10€
10€
25€
20€
40€
25€
20€
10€
20€

Sarah Murphy-Peigné

Best of luck Cáit!
Full list of Altruists
€ 365
raised of €1,000 goal
15
altruists